To create a Fixture where each round spans multiple days you must create an Advanced Fixture.
Navigate to Competitions -> Court Availability.
Select a competition i.e. Sport, Division and Season.
Once a competition is selected the courts for that competition will be added to the grid.

Navigate to the Start Date of the competition by clicking the down icon next to where it says today.
Double click anywhere on the grid and a new popup will appear.
Select the Start Time, End Time and Court.
Select the Recurrence check-box.
Leave the default recurrence options.
Add the additional days you would like the competition to be played on. Your screen should look similar to the image below: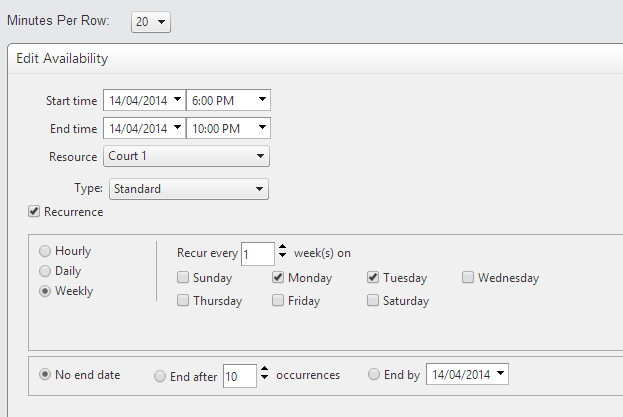 Click on Save.
You will now notice an allocation has been added to the grid.
If the competition is played on multiple courts you will need to repeat this process i.e. for each court.
Up until this point all we have done is allocated time and resources for a particular competition.
To create the Fixture navigate to: Competitions -> Manage Competitions.
Select the competition i.e. Season, Sport & Division.
Select New -> New Fixture from the sub menu.
A new dialog will appear. Select the Advanced Fixture radio button.
Enter the Start Date of the fixture, the Start Round and End Round. Your screen should look similar to the one below: