When attempting to open POS users may sometimes experience problems, this article will provide troubleshooting techniques to help you attempt to resolve them yourself as quickly as possible.
Problem
When you try and open the application the screen is blank and no buttons display as normal in the button grid.
OR
You get an error message "Could not find server database, please confirm your settings".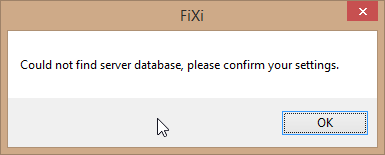 Most often this problem is caused by the computer you are trying to load POS up on cannot connect the server computer hosting the database.
Confirmation of Accessibility
To confirm this is the problem you first need to check the computer you are on and specifically the settings of POS on that machine. Ffollow the steps outlined below:
Open FiXi POS
Click Tools > Settings
Identify the server IP address




Things to do to confirm server is reachable:
- Confirm server is reachable
- Obtain IP address of server computer